Here you will find links to all of our in depth, step-by-step video tutorials. Just click on an image to view the video tutorial.
Women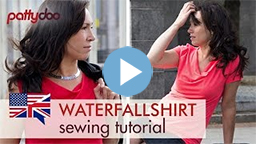 Cowl neck top
Sewing tutorial for a cowl neck shirt, based on the
'Scarlett'
and
'Claire'
sewing patterns.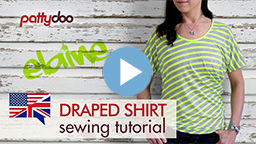 Draped t-shirt
Sewing tutorial for
'Elaine'
a simple t-shirt with flattering draped side pleats, available to download here on the pattydoo website.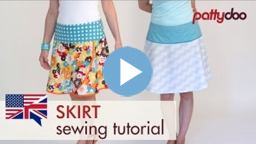 Skirt
Sewing tutorial for
'Romy'
a bias cut women's skirt with zipper, which can be inserted at the back or in the seam. Full step by step instructions are in the video tutorial.
Children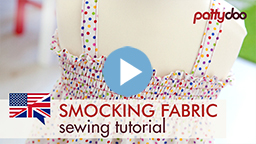 How to: smocking effect
Tutorial on 'shirring', a deceptively simple technique which creates a stretchy smocked effect on fabric and can be used for cuffs, waistbands and many other parts of garments.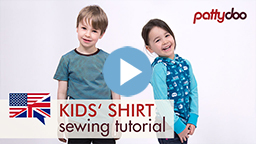 Kids' t-shirt
Sewing tutorial for
'Leo'
a simple kids' t-shirt for ages 18 months to 11 years.
Bags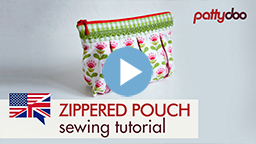 Cosmetics bag with zip
Tutorial on how to make our free 'Susie' pattern.
'Susie'
is a bag with pleats on the front and a zipper. It's perfect to use as a cosmetics bag or pencil case.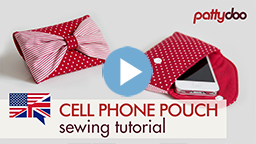 Cell phone / clutch bag
Sewing tutorial for
'Bowie'
, a simple bag with bow feature, available in a range on sizes that fit different smart phones, up to a size big enough to use as a clutch bag.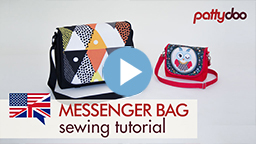 Messenger bag
Sewing tutorial for
'Bonnie and Betty'
, a messenger bag pattern which you can make in two different sizes.