Turning the "Liv" t-shirt into a roll neck top
Sometimes it just takes a little alteration to a pattern to end up with something that looks completely new. Today we're going to see how I've taken the 'Liv' shirt pattern and turned it into a roll neck top (or is it polo neck, or turtleneck?? What would you say?)
I love tops like this for winter as they are suitable for work or casual wear and always look stylish. I'm really looking forward to making my own, especially as I find shop bought tshirts tend to be a bit short and in the winter months (particularly here in Berlin) the last thing anyone wants is a bit of a breeze in the midriff area... So here's a little tutorial on how to make the simple neckline adjustment that will turn 'Liv' into a super snug and chic winter staple.
Altering the pattern pieces
Prepare the pattern in the following way: Stick a piece of paper under the neckline of both the front and back pattern pieces. This is where you'll draw your new neckline. To begin, you will lengthen the front and back middle lines as well as the shoulder seam.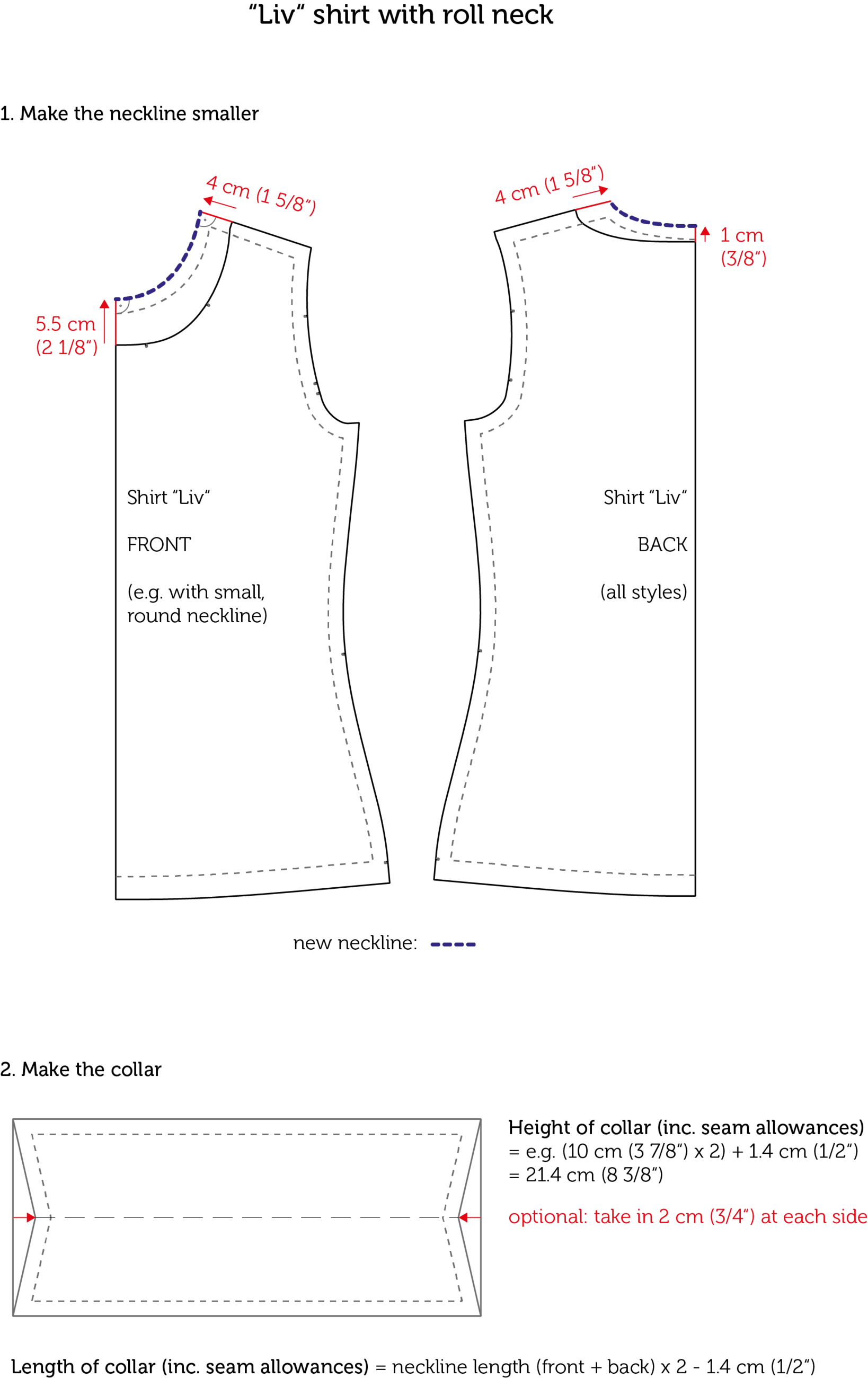 If you have the Liv pattern with a small neckline then you'll need to lengthen the middle line by 5.5 cm (2 1/8") and, for the large neckline, by 11 cm (4 3/8"). If you have the version of the pattern with a wide rollneck, then you'll need to lengthen by 13 cm (5 1/8"). At the middle back of all the pattern types you will need to add 1 cm (3/8") and for the shoulders always 4 cm (1 5/8"). 
You can then use these lines to draw on the new neckline. To ensure the final neckline gives you a smooth curve all the way round, start and end the neckline curves at right angles to the shoulder and centre lines.
The seam allowances are all included in these measurements, so there's nothing else you need to add.
Finally you'll need to measure the new neckline with a tape measure and calculate how big the rectangle for your roll neck needs to be. Unlike with a normal neckline binding, you don't need to make the length smaller than the actual neckline. 
If you want, you can taper the neck in a little, by 2 cm (3/4") at either end, so that it narrows off a little the higher it gets. The neck shown in the photos is 10 cm (3 7/8") high. 
How to sew on the collar is shown in this sewing video.
In the same way you can of course also adapt something like the Ella dress.
The top I am wearing in these photos is made from a viscose jersey, which makes it particularly nice and comfortable to wear, feeling both elegant and casual, which I think is always a good way to be feeling ;)
What do you think? Will you be wearing something like this as the weather gets chillier? 
Happy sewing!
Ina