There's hardly anything more relaxing on a day off than a marvelously long breakfast. Especially on a beautifully set table with warm rolls, fresh eggs, hot coffee, and a brilliant bouquet - along with some striking accessories that you've sewn yourself. With exactly this in mind, Andrea aka Jolijou has come out with a new series of "Vintage Kitchen" fabrics for Riley Blake. These snappy, colorful patchwork fabrics are perfectly suited to these sewing projects for all around the kitchen. And I'm so thrilled to take part - with some fresh sewing ideas - in the "Vintage Kitchen" Blogtour!
As soon as these amazing fabrics arrived in the pattydoo studio, I barely did anything but sew – the ideas just poured out of me. Out sprang cloth napkins, a fabric bread basket, some oven mitts, a shopping bag, an apron - even an egg cozy!
And then another marvelous opportunity came along – to have these cool new accessories photographed as part of a cooking event just around the corner from our studio. It's been such a thrill to try out something new - and then to be able to show them off in such a beautiful setting!
"Vintage Kitchen" cottons und Jolijou ribbon from Dawanda
The egg cozies are lined with Thermolan and bordered with ric rac trim and woven ribbons. The bread basket is sewn from a version of our fabric basket pattern (size M). And the clean corners on these cloth napkins are adapted from these instructions for mitered corners.
The directions for the apron with a pocket and a ruffled edge can be found in the current issue of HandmadeKultur Magazin.
By the way, if you're sewing along with us, then you can enter their sewing competition and perhaps even win a sewing machine!
Besides being totally practical, oven mitts add a snappy accent to your kitchen decor. To see exactly how these are sewn, take a look at this DIY-tutorial.
This quick, reversible shopping bag will put a little bounce in your shopping trips! If you'd like, I'll gladly share the pattern and instructions for this little project with you.
Right now I'm completely taken with all the lovely little things that add up to a gorgeous Easter table.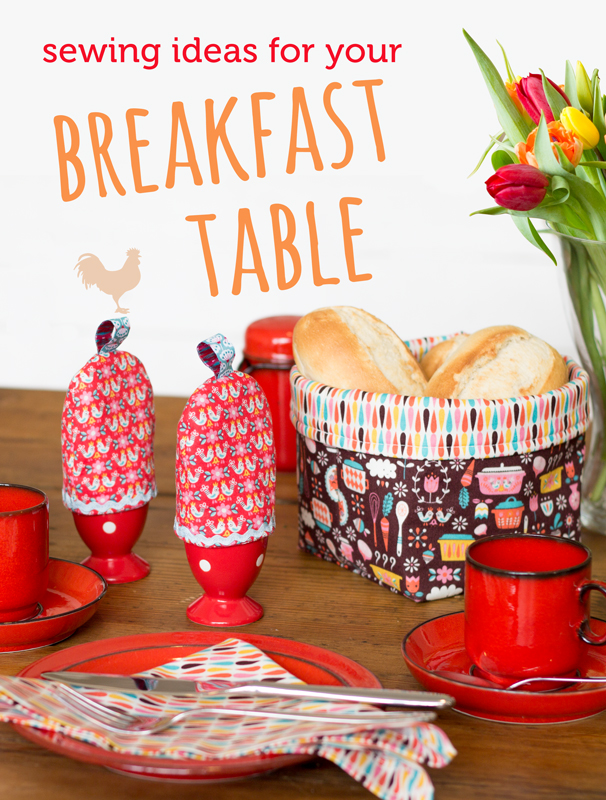 So, have I inspired you to get sewing yet? Then run for your machine! Loads of other inspiring ideas and fantastic sewing projects will be shared by the other participants in Riley Blake and Jolijou's "Vintage Kitchen" Blogtour. I'm so thankful for being part of it!
Happy Sewing, Yours Ina