Do you love to cook and bake as much as I do? Wouldn't sewing a few beautiful things for your kitchen add even more fun to your cooking routine? Besides providing protection from hot pots and pans, oven mitts hanging on a little hook are a snappy kitchen accent. Made from some remnants of neat fabrics, bias bindings and some batting material or fleece, this quick sewing project is also a perfect gift idea. And I've got the instructions and a free pattern for you right here!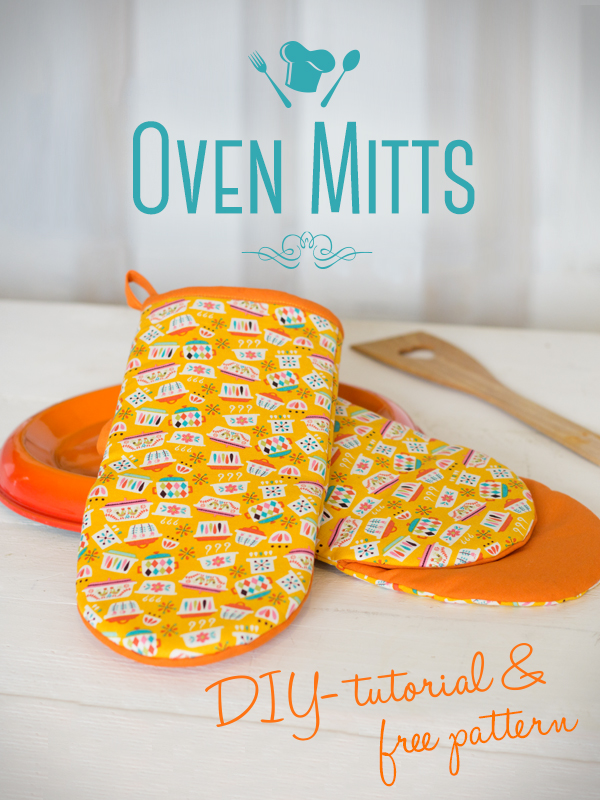 To get a good grip on your pots, pans and baking trays, sew yourself a set of two of these oven mitts.
Let's get started – here are the instructions!
Step 1: Preparing the pattern pieces
Print out the pattern for the oven mitts and prepare the pattern pieces: for each of the three parts you'll need 1x the outer fabric and the batting material or fleece as well as 1-2x Vlieseline 272 Thermolan (or TP970 Thermolam Plus) interfacing, according to the desired thickness. In addition, you will need about 40 cm/ 16" of bias tape. With the instructions here you can make the bias binding yourself.
Step 2: Sewing the layers together
For each part of the mitt, match up the layers one on top of the other – the outer fabric, the interfacing, and the batting material or fleece – and either pin them or clip them together with fabric clips.
Step 3: Attaching the lower part
Matching the edges up exactly, lay the lower part onto the upper part - so that the fabric which will end up on the outside of the mitt is now on the inside. Sew the pieces together, sewing just up to the notches on the right and left sides. Secure the ends of the seams with a few stitches forward and back.
Step 4: Attaching the inner part
Then pin the inner part in place and sew it first to the upper part…
…next sew it to the lower part from one notch to the other. Secure the ends of the seam well here also.
Step 5: Sewing on the bias tape
Turn the mitt outside out and border the lower edge with the bias tape. Starting at the side seam, you can sew boldly with one seam or else more cautiously in two steps - as you can see in this video. When you've sewn around the whole edge back to the side seam again, overlap the beginning of the bias tape a bit and sew an additional 10 cm of the bias band together.
Step 6: Fixing the Loop
Make a loop out of the end of the bias tape and sew it together on the inside with a short stitch. Now your oven mitt is all done!

I'll show you some more great projects to sew for the kitchen and for a decoratively set table during my appearance on Andreas' "Vintage Kitchen" blog tour!
Happy Sewing,
Ina